6th to 8th July 2012
We've been to Skelwith Fold a few times. It has a couple of pubs within about a mile including the Drunken Duck, which is a great pub to sit outside on a nice summer's evening.
As we left the number of flood warnings was rapidly approaching 100, with a month's worth of rain in a day predicted for some areas. Hey ho!
Friday
Arrived early and set everything up in record time. No awning this time.
D needs a new pair of walking boots because his old ones are squeaking a lot, which is really annoying him! So we drove into Ambleside and dashed in and out of all the outdoor shops to see what was available. Didn't buy anything, though, because they are bound to be cheaper online. Can't decide between different brands at the moment...Meindl or Lowa or Scarpa?
Afterwards we walked to the Drunken Duck and sat outside, but only for a few minutes. It wasn't raining but it was very windy and just a bit too chilly for J. We retreated inside but this is only a okay pub inside, so we didn't stay long.
Saturday
A lovely day, plenty of blue sky, hardly any wind and no sign of the predicted rain.
Langdale is only a short drive away, so we left early(ish) to tackle Loft Crag, Pike of Stickle, Harrison Stickle and Pavey Ark. High point Harrison Stickle, 736 mtrs.
This was only about five miles, but relentlessly steep going up and coming down, so lots of stopping to "admire the views". Excellent stepped paths throughout, and despite the steepness this has become one of D's favourite lake district walks.
J on top of Harrison Stickle
I knew we should have brought another bottle of water!
Lots more pics in the gallery.
Had a drink in the Sticklebarn tavern before returning to the site.
We are full of admiration for the fellow caravanner who stood under an umbrella tending his barbecue as the rain hammered down. We really should have captured it on film! It was the only shower of the day, despite the dire warnings.
No barbecue for us, instead we booked a table at Zeffirellis, a vegetarian Italian restaurant in Ambleside. At the last minute we decided to catch the bus rather than pay a fortune on a taxi. We brisk walked in our good clothes for 15 minutes and just caught the last one. £6.60 for the two of us and only a ten minute journey, we should have called that cab! Excellent food and nice surroundings…and lots of wine. Upstairs is more of a wine bar with low lighting and table service for drinks. We got a bottle of the nice wine we had downstairs and settled down to watch the Joe Montague Quartet. We could really get into jazz music, we think. Thoroughly recommended if you are ever in Ambleside.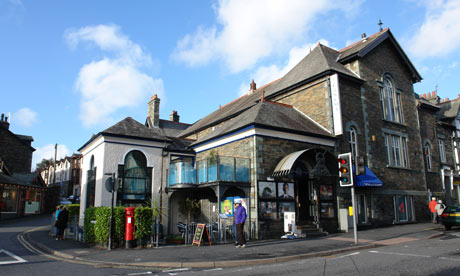 Zefferellis
Sunday
Homeward bound, listening to a surprisingly entertaining desert island discs featuring Martina Navratilova.
Coming soon…
Three nights in Shropshire.