If you go down to the woods today…you're sure to be bitten!
Day 1
Well you can't say we weren't warned!  Almost every review on UK Campsite mentioned midges and they weren't exaggerating!
We set off early on Friday and arrived about 2pm.  This site is like two sites in one, with a large main pitching area and a smaller, quieter area separated by a stream.  We chose the latter, alongside a steam railway line, with it's own toilet/shower block.  Showers very powerful and very hot!  As it was Bank Holiday weekend, the site was full and some late arrivals weren't so lucky and ended up on pretty poor pitches.  We did hear one couple arguing as they were right by the toilets!
 Very pleasant spot amongst the bluebells
Video from our pitch – Welsh Highland Railway
A stroll into Beddgelert in the afternoon and then a BBQ in the evening.  First BBQ wouldn't light so we bought another one from the site shop and combined them.  This resulted in us being able to make toast for supper as it stayed hot for so long!
Then the midges appeared!
The Rain it Raineth
Woke to the sound of rain hammering against the caravan.  Rain sounds bad enough in a caravan, but under trees it is pretty depressing.  When we finally emerged it wasn't as bad as it sounded, but wet enough to postpone a walk in the hills.
We seem to be getting bigger even though we are walking more, so we're cutting out the cooked breakfasts for a while (rather than the beer!) – J did a Goldilocks and had porridge in the woods.
Headed into Caernarfon and had a look round the castle.
then a cheap roast dinner on a boat in the harbour, very tasty.
The Floating Restaurant - Caernarfon
Got back to the site mid afternoon and got the steam train to Nantmor…£5.70 each for a ten minute trip!  Walked from Nantmor back to Beddgelert alongside a stream, with a quick detour to view Gelert's grave.  Poor Gelert, killed on suspicion of eating Prince Llewellyn's  son, who later turned up safe and well.  The Prince was mortified but gave his faithful hound a great resting place - how many dogs get such a detailed tombstone?!
Gelert's Grave 
A tray of chips in Beddgelert (which translates as Gelert's Grave) and a few drinks, then back to the site.  Too midgey to sit outside.
Day 3
A much better day, weather-wise.  A walk through the forest, then a steep climb to the summit of Moel yr Ogof (655m).  Bwlch Meillionen (below) was quite spectacular but we couldn't find Owain Glyndwr's cave.
 Made it to the top!
Nice views of Snowdon and the sea in the distance – see more photos in the gallery.
Got back to the site quite early and managed to sit outside for a while.  Definitely fewer midges today.  Then off to Beddgelert for more drinks.  (All this drinking has got to stop!) Sat outside the Tanronnen Inn as it was packed inside. A man over the road was taking pictures of the pub - we now feature in somebody's photo album! Tried all three pubs in the village but none had any decent local beer, but forced it down anyway.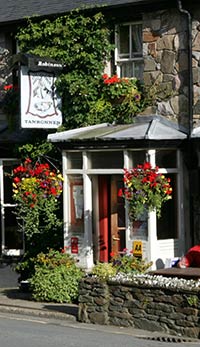 The Tanronnen Inn
Homeward Bound
Woke early, so ended up leaving before 10am. Stabilizer started creaking on the homeward journey.  A quick search online  suggests new friction pads required!
Pros:
Nice forest setting,
Good facilities
Pubs within walking distance.
Cons:
MIDGES
A bit gloomy in the shade of the trees.
The final score midge-wise:  D – 11 bites, J – none!!!  Guess J is not so tasty!
Nothing planned for a couple of weeks now, will give D time to carry out repairs.  So if anybody actually reads this and is waiting for the next instalment…you will have to wait a bit longer!